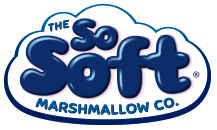 Marshmallow birthday cake
Marshmallow birthday cake
Ingredients
2 cups Butter Cream Icing (ready made)
1 Cake of your choice (home made or store purchased is fine)
150g So Soft Pink & White Marshmallows
150g So Soft Twists
3-4 So Soft Jumbo Marshmallows
1/2 cup Sprinkles
---
Directions
Method:
Whip buttercream and put 1 cup aside. Put the remaining icing into a piping bag with star tip (the larger size is best)
Using a flat knife spread a thin layer of buttercream icing over the cake until completely covered
Starting with a layer of So Soft Twists stand them upright around the base of the cake until there are no gaps
Follow above by placing So Soft Pink & White marshmallows on top of the twists until cake is completely covered
Give the marshmallows a firm push so that they stick to the cake
Directly on top of the cake pipe a layer of stars to cover
Using kitchen scissors cut the So Soft Jumbo marshmallows into 3-4 pieces
The cut marshmallow will curl up slightly but this is fine
Tip the sprinkles into a bowl and using the cut (sticky) side of the marshmallow dip into the sprinkles firmly to cover
Arrange the sprinkled marshmallow petals on top of the cake like a flower
Use 3 extra Pink & White Marshmallows for the center of the flower and your gorgeous cake is complete. Sure to be a winner at any occasion!
---